Our Students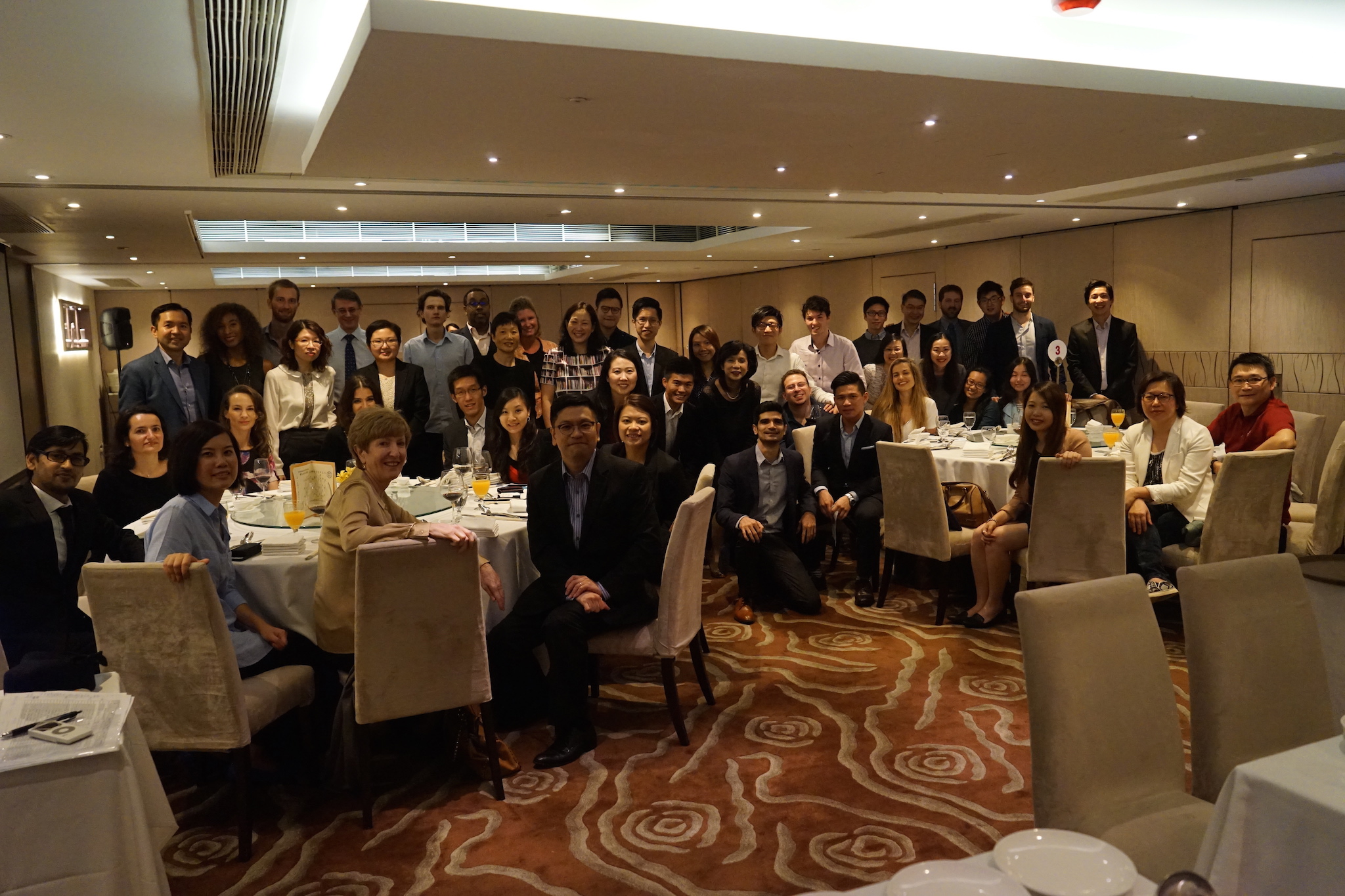 HKUST Fall 2015 large family portrait, and an evening to remember!
Professor Marie Rosencrantz, TA Varidhi Bisht, students, social venture partners, SIE Fund partners, HKUST partners, corporate partners, and The Yeh Family Philanthropy Grants Committee all enjoying a well-deserved celebration dinner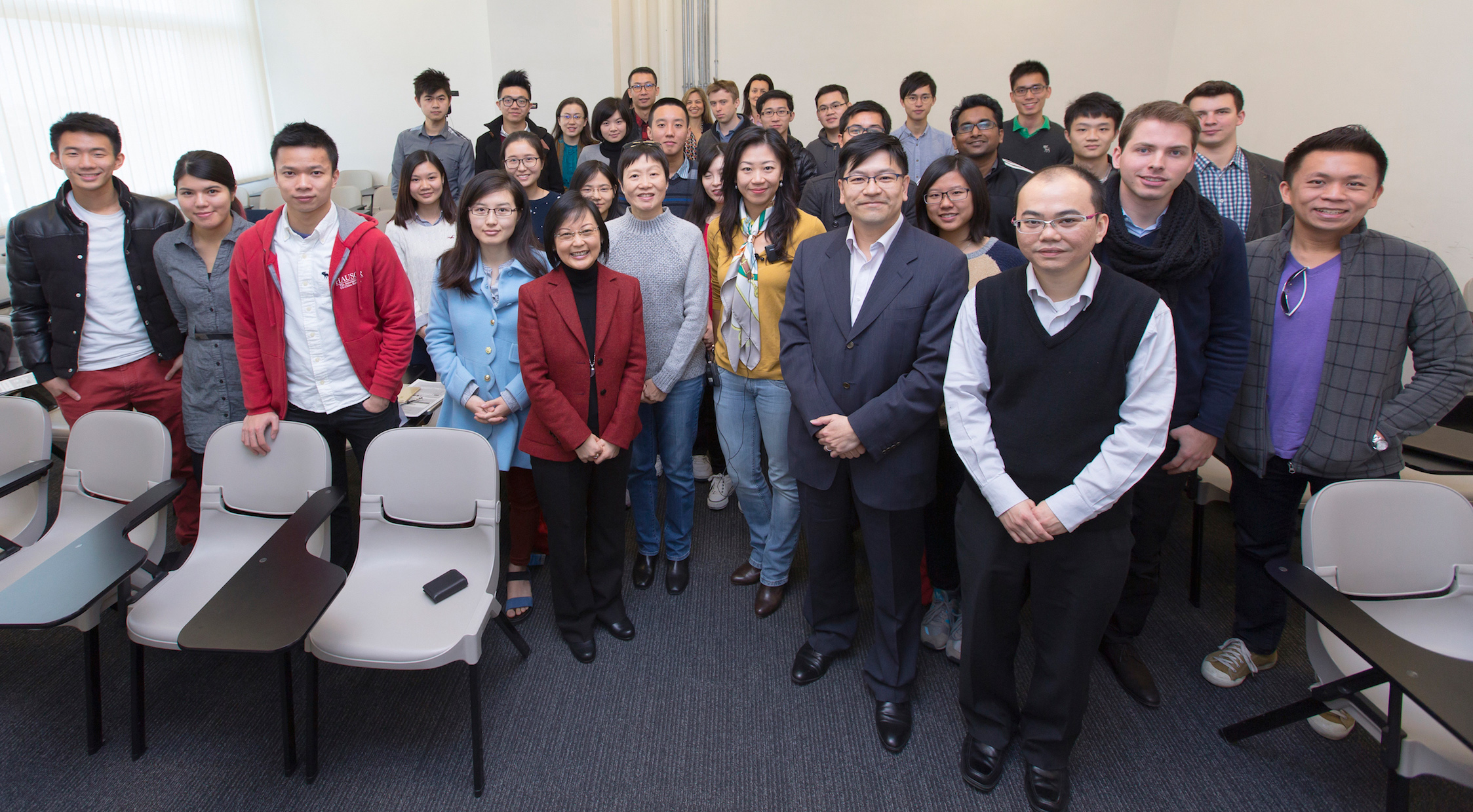 HKUST Spring 2015 class, alongside Professor Christine Chow, TA Plato Chan and representatives from both SIE Fund Secretariat and The Yeh Family Philanthorpy
"The students [have] done more than what we expected and it was impressive to work with them. We are pleased to see that they liaised with [a new potential buyer] and a Legislative Council member. Moreover, we appreciate their courage to counter propose a much more feasible plan to [our original one]. They completed the study of the real market and recommended us to make good use of our resources to explore a new market instead of working hard [on a] market that is already dominated by few gigantic parties. They were [our] advisors and partners. As they had fresh eyes, we were sometimes inspired by their opinions, which we would have never thought of…their wholehearted participation was really amazing."
– Ryan Choi, Hong Kong TransLingual Services, 2015 social venture partner
"The students were an amazing resource. As a start-up, when you are building your business day in day out, you are so overwhelmed by day to day work. Having some "fresh" minds with different backgrounds and skills working with you and bringing other perspectives is unbelievably valuable!"
– Shirin Staerkle, Twopresents, 2015 social venture partner
"This is the best course I've taken in my entire MBA!"
– Virginia Wu, MBA student of the HKUST Fall 2015 class
"I always wanted to take a social venture class at my home school so as an exchange student, I just decided to do it at HKUST instead. Crafting the class around an actual competition raises the stakes to learn and perform so this was an added bonus to taking the course.  I learned a ton from this experience, including fundamentals of teamwork and client consulting, but most importantly I learned a lot about my own strengths. Wouldn't change a thing about my experience; several lessons learned!
– Nikole Thomas, MBA exchange student of the HKUST Fall 2015 class
"The class went far beyond my expectations, teaching not only conceptual and practical information, but also providing the opportunity to apply that knowledge (which is where the real learning begins). One of the most rewarding (and challenging) aspects of this course was working with the social ventures partner, because it transitions classroom knowledge to 'real life' application. As the first, first-year undergraduate student to have taken this class, I can say this was unequivocally the most important experience of my first semester at HKUST. I've established a number of connections with people I would not have met otherwise. I plan to stay involved in social enterprise for the long-term. It was great working with people, who have different backgrounds. It's helpful to have diverse group members, not just in faculty, but in age as well. This is THE class for social entrepreneurship. Put the time into this class and you'll be sufficiently rewarded. The sky really is the limit here."
– Lucas Gaylord, undergraduate student of the HKUST Fall 2015 class
"The SEVP class was an eye-opening learning experience. An excellent chance to gain firsthand exposure to social entrepreneurship and learn about the diverse spectrum of venture philanthropy. This experience will remain as a guiding light in my future career."
– Sunny Um, MBA student of the HKUST Spring 2015 class
"Thank you for bringing me one of the most interesting courses I have ever had in HKUST! Thank you for teaching us insights about the business world from the perspectives of social entrepreneurship and venture philanthropist. Also, thank you for providing us opportunities to learn from different speakers and social enterprises. It is really my pleasure to meet and learn from successful business professionals with different background, such as the CEO of Ocean Park, the founder of the Dialogue in the Dark etc. As for the funding pitch, even though we were not the winner, I had a great opportunity to learn a lot from my partners and my teammates, especially MBA students. Last but not least, thank you for teaching me not only the framework and concepts, but also how entrepreneurs should be true to themselves. Hope to meet you again soon and share with you my start-up journey."
– Andy Lo, undergraduate student of the HKUST Spring 2015 class